A Definitive Guide To Bathroom Vanities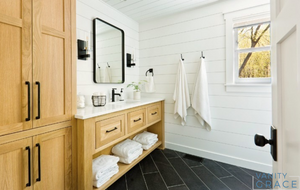 If you're planning to remodel your bathroom, a vanity should be on your roster of must-haves.
Bathroom vanities are an essential interior of any home. Homeowners can improve the aesthetic and functionality of their bathroom signature by picking the right size, design, and material. Vanities are also ideal for impressing visitors by portraying you as someone who appears to care about their image and the visual appeal of your home's bathroom.
When it comes to renovation, don't dismiss the constant care that is vital to maintain your bathroom in excellent shape. With the additional storage and accessible space, you'll get more room to organize your bathroom and, consequently, minimal clutter to tidy up afterward! 
What are Bathroom Vanities?
A vanity unit is bathroom furniture that typically consists of a sink, countertop, and mirror. Lights, architectural accents, integrated storage, and other elements are often featured in contemporary vanities. Vanities are a vital component of your whole bathroom setup in terms of style and utility.
Vanity tables were commonly seen in bedrooms before domestic plumbing was introduced. These were tables with built-in sinks where people could conveniently wash their hands and faces in the evening and the morning. When modern plumbing was invented, the fundamental design of a vanity table was kept—a flat countertop with a basin—but reserved for the bathroom.
What Are Bathroom Vanities Made of?
Finding the ideal bathroom vanity may be challenging in and of itself, but it becomes even more complex when different materials are taken into account. Let's have a look!
Particleboard 
This is a wood-glue composite sheet material heated and pressed into sheets. It is cheap to make and buy, but it can droop under the weight of a solid-surface countertop like granite or quartz. It's quickly destroyed by water and, most significantly, steam and tends to break down prematurely. So, particleboard is not a good choice for bathroom vanities as a practical matter.
MDF
MDF, or Medium-Density Fibreboard, is a composite wood and fiberboard bonded with wax or resin glue. It's similar to particle board, but it's considerably denser. MDF also has a smooth surface and is inexpensive. There are no knots or splinters at the edges, so it paints nicely. However, MDF tends to bloat and dissolve if it becomes wet and left unfinished. If you want a cheap painted vanity, this may be an option.
Plywood
Plywood is created from wood veneers bonded together to form sheets. It's frequently covered in plastic with a wood grain design added. In the long term, plywood will be more stable than solid wood because, unlike natural wood, plywood does not expand or contract in response to temperature changes. If coated with veneer, it will be as sturdy as solid wood. It is an excellent material for bathroom vanities.
Solid Wood
Solid wood and solid hardwood are the two types available. Solid hardwood, which includes oak and maple, is the most durable type of wood. As the humidity changes, solid wood will expand and compress. It's porous, allowing water molecules in the air to seep into it. Still, it's been around for ages, and many builders and contractors still prefer it. Solid wood is famous for vanities because of its strength and durability. Most homeowners have no issues with this material, provided they keep humidity under control.
How Wide Are Bathroom Vanities?
When choosing a size for your bathroom vanity, consider the people who will use it!
The majority of single sink vanities range from 36 to 48 inches (3 to 4 feet). Double sink vanities typically have the vastest bathroom vanity proportions. In the United States, the average for a double sink vanity ranges from 60 to 72 inches (5 to 6 feet).
Types of Bathroom Vanities 
Bathroom vanities mounting types come in a variety of styles. So, before you start planning any upgrade, it's a good idea to learn about the two most popular bathroom vanity mounting types.
Freestanding
The vanity is freestanding and not attached to the wall in simplest terms. It has storage as well as the ability to cover the plumbing. Its rich cabinetry is built from materials that can resist years of wear and tear, with the sink incorporated into the top. 
Floating
One of the most famous and conventional options is the floating or wall-mount sink anchored to the wall. It's a popular alternative for those on a tight budget or limited room. It necessitates wall strengthening, with piping installed within unique covers on the sink's underside.
Factors You Need to Consider Before Buying a Bathroom Vanity
Examine your choices.
Bathroom vanities may define the design of your bathroom, with different styles from minimalist and modern to classic and vintage. Hence, before placing an order, check the following:
Style
The majority of bathroom vanities are either wall-hung or freestanding. Freestanding bathroom vanities provide you with additional design options. On the other hand, wall-mounted bathroom vanities must be placed directly in front of the existing water and drain lines. While freestanding bathroom vanities are frequently used in medium to large bathrooms, wall-mounted bathroom vanities may be ideal for space-saving solutions that add volume to a smaller bathroom.
Size
Finding a vanity that fits nicely into your space is one of the most challenging aspects of the process. Simultaneously time, you should choose something you will love using. Balance and function are the keys to choosing the perfect decision. 
Function
Before looking at bathroom vanities, think about how you'll use the area. You might want to search for something sturdy, simple to clean, and a little shorter for children. Bathroom vanities with a double sink and plenty of storage beneath the countertop are ideal for couples who need their space.
Budget
It's not only about the price of your vanity. It's a good idea to think about how much your renovation budget you want to invest. You'll want to set aside a portion for every purchase to fit into the overall design. 
6 Ways to Improve The Value of Your Home!
Bathroom Remodel -

  a small change in the bathroom will almost certainly increase the value of your home. However, it's critical to choose the right products to ensure you're getting the best return on your investment. Statistics have indicated replacing an outdated vanity can have a dramatic increase in value. 

Exterior Attractiveness -

curb appeal is the first thing people notice when they see a home for the first time. First impressions are everything, so the landscape and exterior must look desirable. Even subtle changes can be very beneficial for the home's value. 

Kitchen Upgrades -

Let's never forget about the kitchen when it comes to home improvements as it will almost surely add value. The challenge here is to find the most cost-effective renovations and a trustworthy contractor to complete the job.  

Fresh Paint -

One of the most effortless and cost-effective ways to improve the home is with a fresh coat of paint. It's essential to find neutral colors that will appeal to a wide variety of people and ensuring that your home is desirable.  

Replace Old Carpets -

Potential home buyers will quickly turn in the other direction when they see an old or outdated rug that looks filthy. Replacing flooring with either hardwood or laminate can give the room a huge boost. 

Stay Organized -

A clutter-free home will have the perception of being cleaner and having substantial space. Organizing is a very cost-effective way to improve the attractiveness of a home, but still very important. If you're one of the people who hate to clean, then there's always the option to hire a professional. 
What Are the Best Quality Bathroom Vanities?
Wondering which item to choose? In no particular order, here is a complete list of our most recommended best-quality bathroom vanities!
This item features an integrated ceramic sink and countertop with sleek lines and a robust profile. Its sink is set on the vanity with a bow front. And the soft-closing doors reveal plenty of storage space, with the satin nickel handles adding to its beauty. Available in Antique Coffee and Antique Silver, this item delivers a refined statement.
The stylish Cade vanity collection has a one-of-a-kind design with sleek lines and raised panels. Under the movable shelf of the cabinet is a hardwood dovetail rollout drawer with full-extension soft-close undermount slides. Each side and front of the vanity are intended to be overhung by this vanity top.
This minimalist vanity boasts two push-open drawers for storing bathroom supplies and a white reinforced acrylic countertop with an integrated sink with crisp, clean lines and a single-hole faucet pre-drilled. It's a practical item that will give your bathroom a clean, fresh look by adding a modern touch.
Its unusual towel bar handle on the top of the cabinet exemplifies its stylish and sophisticated contribution. Doors open to reveal two levels of shelves and vast space. Brown, white, espresso, and grey are the available colors.
With generous cabinet and drawer space, soft-close hinges and drawer slides, and exceptional water resistance, this white vanity is inspired by traditional aesthetics. The vanity provides fully assembled undermount sinks and comes with exquisite white Italian Carrara marble.
It's a solid, water-resistant cabinet with multi-stage painting and sealing. With its pre-sealed quartz countertop, a matching backsplash, and a straight edge mechanism, this vanity offers two doors with adjustable soft-close hinges and four pull-out drawers with concealed undermount soft-close glides for more storage space under the sink.
With its enormous storage drawers and spacious interior with movable shelves, the Chestnut vanity is an excellent addition to any bathroom. It comes in various finishes, including Grey Oak and Brown Oak, and includes an integrated porcelain sink and neatly carved doors and drawers.
This water-resistant vanity, made of zero-emission plywood, was designed to resist warping and last a lifetime. It has a simple floor-standing design that needs minimal effort to put together. Its countertop is drilled for a single-hole faucet mount and features a porcelain under-mount square sink.
Final Thoughts
Your bathroom makeover is a significant endeavor, and you'll need to make a lot of decisions to achieve your desired result. It's worthwhile to weigh your options and purchase bathroom vanities that are stylish and efficient.