Bathroom Vanity Shopping Guide For Beginners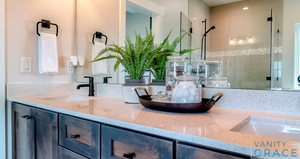 Bathroom vanities are the focal point of your bathroom, so choosing one is an important choice. When you remodel your bathroom, you can choose from many various types and styles of vanities.
If you want to give your bathroom a more customized look, you should buy the base of your cabinets first. The sink, counter, and faucet come next. Not only will you be more likely to find a style that fits your space, but you will also be able to make a room that works for how you live.
Our Bathroom Vanity Shopping Guide
Here are some ideas to help you choose a bathroom vanity. As well as the order in which each product should be bought:
Assess your room to decide the size of vanity you will need.
Bathroom space is sometimes restricted, so you should first choose exactly where your cabinets will go. Next, take some measurements of the available area to determine the absolute limits of your design. 
It is possible that the contractor will help you make product selections, but at the very least, they should provide you with the measurements. If you are working on this alone, remember to account for the baseboards and/or wainscoting while taking measurements since these features can make a big difference in a small room.
Decide on the style
Once you have chosen the plan for your bathroom, you can go to choose the vanity. Do you like classic cupboards better? A relic of the past, or an old table? What is this commode? Do you love freestanding or wall-mounted?
There are a number of elements to think about if you're after classic vanity cabinets:
What color paint or stain do you prefer?

Do you have a favorite hue?

Do you have a preference for a certain door design?

Do you prefer pullouts, doors, or drawers?
Number of sinks
To get the desired number of sinks, you'll need to select a vanity design that allows for that many. Many homeowners would like to have two sinks if given the option. Unfortunately, space limitations are a common problem.
In most cases, a vanity with a width of fewer than 60 inches will only be able to accommodate a single sink. You're free to put the sink wherever you like—in the middle, on one side, or on the other. Drawers or regular cabinet doors are both options for your sink cabinet.
With undermount sinks, the seam between the sink and the countertop is hidden by the mounting brackets. They're more difficult to set up, so you should hire a pro.
Vessel sinks are installed on the countertop. The drain hole is drilled into the countertop. Vessel sinks require more upkeep, but they provide more design options, including unique forms and patterns.
Sinks designed to "drop in" to a prefabricated hole in the countertop are the most common type of sink installation. The lips on these sinks allow them to sit atop your countertop.
Decide on the vanity countertops
In order to purchase your countertops, you'll need to receive the specifications from the manufacturer once you've decided on the type and color of cabinets for your vanity, which will need to be manufactured.
Some countertop is needed for most other designs, such as cabinets and recycled furniture pieces without a top.  There are a variety of materials, including quartz, granite, marble, laminate, and wood.
Quartz and granite are popular alternatives for bathroom surfaces. Both are sturdy, high-quality fabrics with designer designs. Given its porous nature, granite requires sealing every year or two.
The resistance of granite and quartz against scratches and dampness is greater than that of softer stones like marble. Wood and laminate don't often mix well with humidity either, although they may be more affordable than stone.
In order to drill the proper holes in the vanity for your faucet, your fabricator will have to know its measurements.
Most contractors will not start working on your project until all supplies have been chosen and delivered. Therefore, you must move swiftly to place your material orders.
Bottomline
Ideally, after you're done choosing, your vanity will appear like the one you'll be excited to use and enjoy for years to come. However, when it comes to the final designs, there is no wrong option. Simply your own personal taste.