Do Bathroom Vanities Need A Backsplash?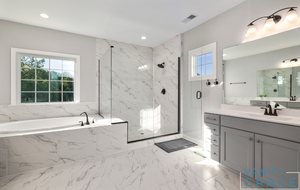 A backsplash for your bathroom vanity is necessary unless you have a sink that doesn't rest against the wall.
The wall behind the sink is safeguarded by a bathroom backsplash from decay and health hazard like mold and mildew. It can also help open a lot of space for a much-needed detailed makeover.
Common Backsplash Materials
The following are a few common backsplash materials that you can see in the market:
Tile
Mosaic tile backsplashes can create a sparkly glass look to your bathroom vanity, adding a sparkling accent to your bathroom vanity countertop.
Glass Tile
Glass tiles are thin glass pieces with a translucent coating on the back. They are available in pre-designed glass mosaic sets or separately, like tempered glass.
Glass is the most modern-looking backsplash material due to its infinite color variations and glossiness. It's also very easy to maintain.
Ceramic Tile
Classic ceramic tile is often sold at an affordable price. Use light colors in your bathroom for a traditional design, and select an accent tile for the backsplash behind your vanity.
Metallic Tile
Metallic tiles have become trendy in the past few years. These are typically made of iron, copper, stainless steel, and titanium. It also demands regular care to maintain its original finish.
Stone
Several natural stone bathroom backsplash alternatives are resistant to damage or collapse. They are also relatively low maintenance. In most cases, all you need is a cloth and some mild soap.
In comparison to other backsplash varieties, the unique veining and color give off a premium and contemporary impression.
Granite
Granite is both easily maintained and aesthetically pleasing. A matching 4-inch granite backsplash is typically included in the standard granite vanity.
Marble
Marble may offer a healthy sense of luxury to your bathroom environment. And because it's prone to fractures, it's a natural stone that must be sealed by stone fabricators. It's also a little more expensive and takes far more care than other natural stone materials.
Washable Wallpaper
Although possible, you'll need to choose a certain kind of wallpaper for your bathroom. Water-resistant wallpaper should have a thick vinyl covering that repels moisture.
If done correctly, washable wallpaper may drastically change the appearance of your bathroom space.
Standard Bathroom Backsplashes- Many vanities come with a standard 4-inch backsplash. And many stores will presume that it's what you want with your vanity purchase. However, if you have different intentions, you should disclose them.

Countertop-To-Ceiling Bathroom Backsplash- A backsplash that goes up to the ceiling might be the best choice. The extension can add beauty to your space and give the bathroom a deep, layered sensation, even if you probably won't require a high backsplash behind a bathroom sink.

Floor-To-Ceiling Bathroom Backsplash- A floor-to-ceiling backsplash or wrap-around tiling is considered the trump card in establishing a smooth, spa-like bathroom environment.
Benefits Of Having Bathroom Vanity Backsplash
The absence of a backsplash is comparable to being outside in a downpour without a raincoat. Since you have a wall behind the sink, it's almost certainly constantly drenched and requires more maintenance.
A vanity without a backsplash will cause the wall to collect moisture and create bathroom mold. You're unlikely to notice if the wall has bent or deteriorated until it's too late.
To nudge you further into having a new backsplash installed in your bathroom space for your bathroom vanity, we've gathered its four best benefits.
Various Height Options
A backsplash can span any height, from one inch to a whole wall. A 4-inch ledge design is the most popular height of a backsplash for a bathroom vanity, which is more than enough to safeguard the walls against catastrophic events in the bathroom.
A small backsplash may not seem like much, but it can be fitted to a vanity already in place and add elegance to the bathroom.
Backsplashes may easily be adapted into a full wall, establishing a focal point and generating a dramatic effect on the wall. A higher backsplash generally stretches from the entire wall to the ceiling when converted into a full wall.
This is also where a personal touch may be incorporated to free up space. The space will look cleaner and more inviting when the proper paint color is combined with the right bathroom backsplash.
Protect Your Walls
The bathroom is common for accidental splashes due to tooth brushing or face washing, which can cause the drywall to be damaged, moldy, or deformed.
Drywall damage may be permanent and remarkably challenging to fix. And while it does take a lot of water to accomplish that much harm, it will continue to accumulate for the months and years that a bathroom is used daily.
Similarly, bathrooms in areas with high traffic levels demand extra protection against water damage due to the high volume of people using them. Hence, why risk the stress and inconvenience of fixing it again when installing a backsplash is a quick, one-time fix?
Added Aesthetic
The backsplash's aesthetic value to you will be just one of the crucial points to consider. The beauty of the bathroom is important since it is what you see multiple times each day and what guests see when they come over. Choosing the style of the backsplash is also enjoyable, as there are various materials and proportions available in the market.
A personal aesthetic touch will always go along with the right backsplash material. One idea is to install a side splash behind the vanity sink with a detailed edge in the material to add texture.
Clean With Ease
Because it's simple to use a towel or a sponge to wipe down the divider, a backsplash makes it easier to clean the wall. Water won't wind up compromising the walls anywhere past the vanity since it can't reach behind it.
Unlike drywall, waterproof materials may be cleaned with a damp cloth rather than needing to be dried off immediately, making them easier to clean when filthy or wet.
Another advantage of installing a backsplash is that any scratches, dents, or cracks may be easily avoided or remedied faster since they are generally less expensive and quicker to repair than having to tear out and fill a large part of the bathroom wall.
Installing A New Bathroom Vanity Backsplash
Employing a backsplash installation professional is always best if you lack the necessary skills or knowledge.
When correctly done by an expert, several bathroom backsplash ideas will protect the wall behind and the ceiling, make cleaning your pedestal sink easier, and even show off a healthy dose of your character.