Which 54" Vanity Bathroom Is Right for You?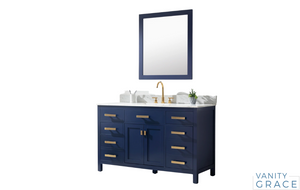 Whether you're renovating your bathroom or building a new home, choosing the right vanity sink will set the tone for the overall aesthetic of your home. These days, simple, functional yet elegant vanities are more popular than extravagant ones. Given the number of options in the market, you may be having a hard time choosing, but you need not worry because these vanities will meet your needs. 
When choosing the right bathroom vanities, some factors must be taken into account, you have to be particular to some things, especially the elements that will surely match the ambiance of your bathroom like for example, color. 
But don't worry! We've curated 6 Design Element vanities for you to choose from — so take a look and find the one that's right for you.
In this article, you will find bathroom vanities that are aesthetically pleasing and will surely match your style. You can use the following guide to help you decide what is the right bathroom vanity for you.
What Are the Design Element 54" Bathroom Vanities?
Design Element 54' Bathroom Vanities are standard vanities for bathrooms which can also be your dressing vanity with marble and sleek countertops which is very enticing to look at .For those looking for a modern vanity which would add more than just style to their bathroom, these vanities are the perfect choice.
Here are the key features of these vanities:
Suitable for Mid-Size or Large Bathrooms
Vanity sizes typically range from 18" to 72" wide, depending on whether it is a single or double sink, while standard depth is around 20". Due to its 54-inch size, it may not be an ideal choice for a small bathroom but perfect for mid-size or large bathrooms. It can fit one sink, ample cabinet space and drawers.
Stunning Designs for Any Home
A high-quality made vanity designed to complement any bathroom setup. In terms of style, Design Element bathroom vanities will definitely make your bathroom be more lively, organized, and neat because of their minimalistic design. They are simple but elegant bathroom vanity with sinks that are suitable for every modern house. A spectrum of different hues is available to choose from.

Provides Great Storage Space
What's best about Design Element bathroom vanities is that they don't just look beautiful, but they're functional as well. You don't need to do any additional work to make it more convenient. From the drawers to the dryer holder, functionality is on point.

Every bathroom vanity cabinet and drawers are very functional and accessible, even the countertop. Your essentials and other bathroom needs will fit in it hassle-free and organized. The collection of 54" bathroom vanity usually has single vanity sinks enough for small household usage.
Aspects to Consider When Buying a 54" Bathroom Vanity
Choosing the right bathroom vanity can be difficult sometimes but it is much easier if you consider these aspects before buying it.

Least Expensive
Now, if you're looking for the best vanity and less expensive vanity, Milano 54" is highly recommended because of the material it uses. Brass finish is less expensive than nickel finish but guarantees a quality material you can use in every 54" bathroom vanities but all in all other vanities can be one of your second or third choices since they are still a quality vanity you can find in the market.
Lots of Storage Space

If we are going to talk about more storage or space, Burbank 54" and Milano 54" are the right vanity for you. Both have 6 functional drawers that can hold all your bathroom essentials all at once. You don't have to worry about decluttering every time it is in use because why not? It can be organized by these 6 functional drawers neatly.

For people who don't need a lot of storage or space, Valentino 54" vanity is the right choice for you since it only has 5 functional drawers not to mention it also includes dovetail joinery. It can only keep and organize limited things since it has fewer storage.
Functionality
In terms of functionality, you can trust all the collections of vanity but we suggest Milano 54" and Burbank 54" single vanity. Both have 6 functional drawers that can accommodate all your things and secure them from getting wet on water. You can save all the worries because of this aspect.
Durability
If we are going to talk about durability, the Milano 54" is also one of the choices. It is tested and can be used for a longer time than expected. It has a very good material for resistance and corrosion that will guarantee you its durability and longevity.

Feel free to decide what vanity you fell in love with first, it's your choice after all. You don't have to worry about the quality because all the vanities in Design Element: 54" Bathroom Vanity are all quality made and ensure the materials are at their finest.
54" Bathroom Vanities to Choose From
Here is a closer look at the bathroom vanities from Design Element. This can guide you in choosing the perfect vanity for your bathroom.

Your bathroom will surely look beautiful with the Valentino Vanity collection. It is a single porcelain sink with Carrara white marble countertops and made from hardwood and wood panels specifically for its drawers and cabinet. Other than that, this vanity has metal hardware for its finishing touch, an electrical outlet, multi-layer paint finished, and constructed holes.
Features of Valentino 54" Single Sink Bathroom Vanity
Integral electrical outlet
Porcelain under-mount sink with overflow
Adjustable hinges
Metal hardware polished nickel finish
5 functional drawers with dovetail joinery
¾" Thick seamless Carrara marble countertop with pre-drilled holes
Material:
Seamless Carrara Marble
Solid birch hardwood
Porcelain Sink
Polished Nickel
Storage: 
Available Colors: 
Inclusions:
Integral electrical outlet
hair dryer holder
Porcelain undermount sink with overflow
Pre-drilled holes to accommodate faucet
Burbank 54" single vanity is a soothing shade of gray that will look good in your bathroom. This is the vanity that is more suitable for every bachelor who likes neutral and balanced bathrooms as its shade represents. This classic Burbank Vanity collection has the same features as other vanities here but what's nice about it is the ceramic farmhouse sink with brushed finished metal hardware and is also very durable to use.

Another thing, Burbank Vanity is also made and constructed from solid birch hardwood that is paired with a thick and seamless ¾" Carrara white countertop. Also, You don't have to worry about anything else because this vanity is secured with fine details and multi-layered paint finished.

This kind of vanity has bathroom cabinets and drawers that will give you a generous amount of space to organize your things neatly and will allow you to have a sleek operation everyday. Also, this is the type of vanity that gives you the extreme functionality needed in your daily routine. Its modern features will allow you to have a classic farmhouse-like vibe in your house. A quality bathroom sink cabinet that is made of solid birch hardwood and lets you enjoy its longevity. Perfect for large bathrooms and has a matching backsplash on it.

Features of Valentino 54" Single Sink Bathroom Vanity
Large ceramic farmhouse sink
Quartz Countertop
Metal hardware in brushed nickel finish
6 functional closing drawers with dovetail joinery
Material:
Storage: 
Available Colors: 
Inclusions:
Large ceramic farmhouse sink
Matching backlash
If you're the type of person who loves off-white or all-white vanities, this is the best option for you. Milano 54' is a single porcelain sink in white color that will transform your bathroom into a museum-like place that everyone would want to visit every day.
This vanity counter is smoothly done and it also has neat drawers to let you organize your essentials in it. It will match some bathroom furniture as well if you want to put some in addition. Also, it comes with bathroom cabinets and drawers for easy access. The fine details of it will make you fall in love with your bathroom all over again.

This single vanity is perfect if bathroom vanity mirrors are added and some bathroom accessories for additional decorations. In addition to the Milano vanity collection is this vanity sink in color blue. 
The color blue represents both sky and sea which means freedom, inspiration, and open spaces in case you're also mesmerized with this vanity. A quality vanity that is very pleasing to eyes with heavenly color. A bathroom with mirrors like this is usually very calming and can be blended in a modern house that has lively colors like pastel colors.

Features of Valentino 54" Single Sink Bathroom Vanity
Soft closed doors with concealed adjustable hinges
Metal hardware in brushed brass finish
Porcelain under-mount sink with overflow
6 functional drawers with dovetail joinery
Material:
Seamless Carrara Marble
Solid Birch -Hardwood
Brush brass finish for metal hardware
Storage: 
Available Colors: 
Inclusions:
Porcelain undermount sink with overflow
Pre-drilled holes to accommodate faucet
Matching backlash
Conclusion
Every bathroom vanity sink differs accordingly. It may differ according to its color, size, storage, countertop space, style, how it is made/layout, how many sinks, what type of sink, cabinets, mirrors, drawers, finished and so many factors to consider. Just keep in mind that it is important that when it comes to deciding things for your own sweet home, always think and prioritize things that will make your home become home, especially for your family. Where you want to go home every day.

Choose whatever makes you feel like it, choose whatever makes you happy, and most importantly, choose whatever you want. Your home, your choice. There is no right or wrong.

To do that, visit Vanity Grace, the only online retailer that can help and provide bathroom vanities that are right for your bathroom. You can shop comfortably, without the hassle, and get the best vanity for you.
Check our other 54" bathroom vanity collection here!