When To Choose Freestanding Bathroom Vanities?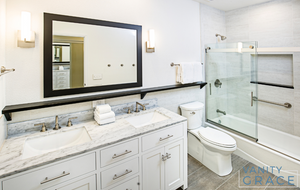 Quite confused about whether to buy a floating or a freestanding bathroom vanity in your home? You have landed the right blog for you.

Fascinated by the difference between these two types of cabinets? There is much more to understand about the two types of bathroom vanities and how they compare in function, cost, style, and functionality.
Freestanding Bathroom Vanities Vs. Floating Bathroom Vanities
When you say freestanding bathroom vanities, they refer to bathroom vanities where you can stand on your own feet. These cabinets are also known as hanging cabinets. Freestanding vanities have been in the market for a long time, and they are known for their durability and utility.

Even though plenty of floating vanity options are available on the market, big brands such as Vanity Grace continue to sell freestanding bathroom cabinets in their stores. Unlike a floating vanity cabinet, a freestanding cabinet's top and the bottom are supported by legs that can be moved easily to another location.

Meanwhile, a floating bathroom vanity is a visual focal piece in a bathroom or a kitchen. It may also be used as a buffet or media cabinet. They are typically mounted at the center of the wall, which keeps them from interfering with any type of room décor or furniture. Furthermore, floating vanity cabinets are usually very expensive.

If you are someone who wants to maximize the space in a room, then floating vanities are definitely the option for you. On the other hand, if you love being able to rearrange things with ease, then freestanding vanities are what you can choose. But if you want something easily movable, then freestanding bathroom vanities are ideal for your needs.


Factors You Need to Consider When You Choose Freestanding Vanities Over Floating Vanities:
Some people prefer freestanding cabinets as they do not have to use the wall anchors while they relocate the cabinet.
Freestanding cabinets are cheaper than floating bathroom cabinets, but the installation can be more complex. These are usually available at a lower price, which makes them more affordable to those who want a freestanding cabinet but cannot afford a costly floating bathroom door without all of the hardware and installation.
A freestanding bathroom cabinet is more versatile. It can easily be placed in a bathroom, a kitchen or a hallway. A floating vanity cabinet's track does not allow you to move it even if you want to rearrange things in your room.
The practicality of a freestanding vanity is that it can be used as additional storage space for guests and office equipment such as computers and gadgets.
Our Best-Selling Freestanding Bathroom Vanities
A mix of classic and contemporary design, the Caroline Parkway 93-inch Double Sink Italian Carrara White Marble Top Vanity is sure to add a pint of charm, a hint of sophistication, and a well-deserved splash of grace to your bathroom.

Made with solid wood frame construction, the double sink vanity is straightforward but elegant and beautiful all at the same time.

It is fashioned with a White Marbled look for an ultra-fine point of distinction that will stun others. With a groundbreaking design that fits perfectly under any standard 8-inch faucet, this sink will perfectly fill your bathroom's needs.

Available in espresso, cashmere gray, white and gray cabinet finish, this double sink vanity offers you the luxury and convenience of a modern yet classic style. Come home to a whole new perspective of bathroom décor with this vanity.


Building on tradition and style, the Wyndham Beckett 84-inch Double Bathroom Vanity is one of the most versatile pieces of contemporary bathroom wall furniture you'll find. Styled with a classic aesthetic and updated with modern elements, this freestanding double sink vanity is constructed of solid wood countertops and black melamine interior doors.

Backing up its style is a 12-step finish process that includes hand-sanding, priming and sealing, and even UV protection. With an optional top cut from a single piece of granite or marble, the Wyndham Beckett 84" Double Bathroom Vanity will be a favorite for many years.

Currently, it is on sale, so you can save more money!


Handsomely designed for comfort, the Lexora Dukes 84-inch Double Vanity with Marble Top will add a high degree of sophistication to your bathroom. Crafted from solid rubberwood and birch, this freestanding vanity features stile and rail construction for added durability.

With a generous combination of pull-out drawers and doors, you'll find it easy to store everything from towels and linens to makeup and toiletries. Refined styling combined with modern convenience makes this an absolute must-have for any master bath.

You can get this at a cheaper price in Vanity Grace as they are on sale.


Beautifully crafted of solid wood and wood products, this modern bathroom vanity is a bold statement for your home. The KubeBath Dolce 60-inch Double Sink Modern Bathroom Vanity with white quartz countertop is designed to be durable, functional, and add a touch of style.

When it comes to functional design, this bathroom vanity is equipped with a spacious interior that can accommodate multiple washcloths, toiletries, and other essentials. In addition, it features a white quartz countertop with a natural wood finish and stile and rail construction.

We hope you like the list of our top freestanding bathroom vanities!


We know that selecting the right bathroom vanity for your home is a daunting task, so we hope that this article was able to help. In addition to the above freestanding bathroom vanities, you can check out our other best-selling bathroom vanity at Vanity Grace.