What Distinguishes Wyndham Bathtub Collection From Bathroom Vanities?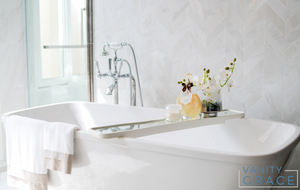 When you wanted to remodel your bathroom, you felt that there were too many home improvement stores and did not know how to start.

Nonetheless, it is really important to remodel your bathroom as it will be the place in your house where you refresh, recharge, and socialize. Bathroom items and fixtures can be purchased at any home improvement store, but only the Wyndham bathtub collection tops other leading brands.

This article will give you five reasons why Wyndham bathtub collections are the best bathtubs to choose from.


1. Variety of Features Available
When it comes to remodeling your bathroom, you need to consider various features that you want to include. Most homeowners choose the Wyndham collection for its numerous features and effectiveness. These bathrooms attract attention and provide the comfort and luxury you want.

Wyndham tubs are available in different sizes, shapes, colors, and textures. The bathroom vanity collection can provide all of these for you.


2. Built to last
Usually constructed from acrylic, a bathroom vanity collection of the Wyndham series can stand the test of time and weather. This is due to its solid construction that has been made to last. In addition, bathroom vanities made from acrylic will never chip or crack, unlike other materials like wood, steel, or glass.

Due to its lightweight, it is also easy to relocate compared with other heavy bathroom vanities.


3. Style and Comfort
Most people tend to focus on durability and functionality for the bathroom vanity collection. However, style and comfort are also considered vital factors in deciding the bathroom furniture you choose.

The stylish look of the Wyndham bathtub collection is one of its strong features that will transform the look of your bathroom and your home. The modern design will add uniqueness to every space in your home, thus making it more stylish than ever before.


4. Safety and Durability
Durability and safety are essential features homeowners should look for in their bathroom vanity. Always choose a sturdy and long-lasting bathroom vanity collection that will be able to withstand the test of time.

The acrylic material that has been used for its construction provides the strength needed in a bathroom vanity. In addition, it can be easily cleaned and will not rust, unlike other materials. Therefore, it is wise to choose a bathroom vanity collection made of this material as you do not need to worry about its durability.
5. Modern Design
It is not easy to find a modern design that will match the look and feel of your bathroom.

The Wyndham bathtub collection has been formulated with a combination of class and contemporary looks. With its right mix of shapes, designs, and colors, this modern design will transform your bathroom into a chic and attractive space that everybody will admire.


Our Top Picks
Nothing can compare to a truly deep tub to truly envelop yourself in an indulgent experience. The Wyndham Juno freestanding bathtub brings the depth and feels you have searched for. It is made from high-quality acrylic material and has a black-colored base.

The combination of elegant design and luxurious material makes a perfect choice for anyone looking for a bathtub that is suitable for their bathroom. Comes with overflow with a brushed nickel upgrade and pop-up drain, this bathtub is perfect for anyone looking for an upgrade to their bathroom.

The Wyndham Juno freestanding bathtub has a depth of 61 inches and is 17 inches deep at the drain. It also has a maximum fill of 74 gallons. This tub stands out from others because it is made in the USA and features a modern design that many will love.


Bring a classy touch to your bathroom with the Wyndham Brooklyn freestanding bathtub. This particular tub is acrylic and comes with an overflow and drain made of brushed nickel. It also has a tub filler integrated into the overflow and a floor-mounted faucet in brushed gold.

This bathtub also has a beautiful modern design that will add beauty to your home or office. The Wyndham Brooklyn freestanding bathtub has a depth of 67 inches and is 14 ¼ inches deep at the drain.


Dive into total relaxation with the Wyndham Rebecca freestanding bathtub. Its acrylic material will add beauty to any bathroom with its modern design, and enjoy the feeling it can provide. This is the perfect tub for ultimate relaxation, giving you a spa-like experience at home.

The Wyndham Rebecca freestanding bathtub has a depth of 70 inches and is 16 ½ inches deep at the drain. Its tub filler is brushed gold and has a matching color to the polished chrome overflow. It also has a matching color to the stacked floor-mounted faucet in brushed gold.

Additionally, it is backed with a two-year limited warranty.

Another top-selling bathtub from the Wyndham bathtub collection is the Wyndham Juliette freestanding bathtub. The tub has a depth of 71 inches and is 17 inches deep at the drain.

It has a tub filler in Brushed Chrome that will add to its beauty and durability. Unfortunately, the Wyndham Juliette freestanding bathtub does not have a matching overflow, but you can get one for an additional fee.

With its sophisticated look and luxurious feel, this one can satisfy your spa-like bath experience.
Final Thoughts
From the stylish and modern design to the quality construction and durability, you will surely be satisfied with your choice of bathtub from the Wyndham bathtub collection. As one of the trusted companies in the industry, it has been passed through the inspection of quality control experts to make sure that only high-quality materials and designs make it to you.

It all comes down to your personal preference and comfort level. Whether it is a bathtub from the fancy shape, depth, or color that you like best, you can be sure of finding a perfect fit for your home.

So, suppose you are looking for the ultimate spa-like experience or just an upgrade in your bathroom. In that case, the Wyndham bathtub collection can offer the perfect solution to decorate any room.