How To Design Your Dream Bathroom: Living The Dream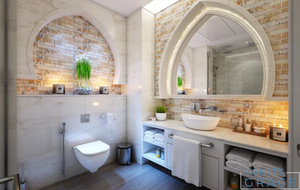 Having a beautiful bathroom is something most of us can only dream about. Let's look at these 8 favourite elements of an ideal bath retreat and then share some ideas on adding these elements to our bathrooms. Building your dream bathroom can be simple if you think about what you want. Here are eight ideas to get you started.
Use a Luxurious Tiles.
Create a luxury bathroom by covering your walls and floor with large-format tiles. Whether you choose bold patterns, luxury stones, or simply pure white, you can create an elegant look on a budget. 
Stone tiles, whether they be large-format or small—and whether they be tile, quartzite, limestone, etc.—are a must in a fantasy bathroom. The use of stone tiles in the bathroom is one way to create an expensive and luxurious look.
Choose the Quality.
When shopping for your next bathroom remodel, consider quality basics that will last a long time. Constructing your toilet with quality parts reduces the possibility of leaks and keeps you from having to buy a new one in a few years. 
Quality materials last longer, and you'll be pleased with your purchase for years to come.
Make a statement (A Mini Chandelier!).
Having a light fixture in your bathroom, the huge one, can make the bathroom feel gorgeous. A light fixture, also known as a ceiling light fixture, can add a lot to the glamour of a bathroom. Larger ceiling light fixtures can make a statement and make the room feel grand without overbearing. 
If you have a large bathroom, three by three meters or more, choose a light fixture roughly 45 centimeters in diameter. For a smaller bathroom, 60 centimeters or 90 centimeters will work better.
Try Adding Vanity.
Choosing a vanity for your bathroom can be difficult because there are so many options. A beautiful wood vanity is an example of a good choice. However, you might prefer a more traditional-looking vanity with tapering legs or feet, like the one in the second photo.
Vanity options vary greatly, and they can have a major impact on the style of the bathroom, regardless of whether they are ultra-modern or have beautifully crafted wood legs.
Consider Layered Lights.
To have a well-lit bathroom, layer your lighting. Use lights that glow beside, above, or behind the mirror to light your face while doing your morning routine. Don't forget about recessed lights in the shower to brighten the space and make it look bigger. Every centimeter of your dream bathroom should be photo-ready.
You want to see your face as you apply your makeup each morning, so use lights positioned near or above the mirror and give you a photo-ready reflection. Use recessed lighting in the shower to make it feel bright and open.
Add a Shower Stall.
If you've always wanted a glass shower door but think it's too modern for your taste, there is good news: it doesn't have to be. You can have a gorgeous, luxury shower without a tub as long as you style the space properly. You can go simple or use moldings, rich tile, and intricate hardware to add traditional grace and harmony.
Add A Touch Of Nature.
To create a warm and welcoming atmosphere, bring in an element of nature like a plant. Consider adding natural elements such as flowers, potted plants, or floral patterns to give a warm and inviting feel to bathrooms with hard surfaces and polished finishes.
Put an Aesthetic Storage.
Think in terms of storage and maximizing the space--even with a big bathroom you can make good use of shelves or closets. When designing a bathroom, take full advantage of every available space. Open shelves make the most of small rooms or closets, while mirrors can help to make the most of large bathrooms.
To make the most of your bathroom-storage space, consider opening up a wall by creating shelving inside. You could also use mirrors to open up space and provide a full-length mirror for convenience.
Truly maximizing the space in your bathroom may require tearing down a wall and building or installing shelves. Think in terms of storage and maximizing the space--even with a big bathroom you can make good use of shelves or closets!