The Road To Classic Neutral: Bathroom Ideas With Grey Vanity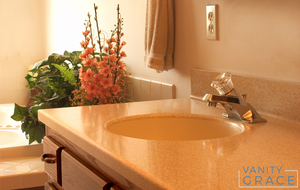 Grey bathrooms have grown in popularity over time.
Aside from white, grey is the most popular choice for modern bathroom design. The fact that grey is a neutral color is one of the key reasons it is so desirable.
It serves as a bridge between color palettes and levels the environment. It allows colors to shine, flatters accents, works with textures, and instantly improves any space.
Nothing is worse than investing a lot of money on a design that will be obsolete in a few years. However, you may utilize grey to complement any style in any space and create a timeless bathroom theme.
The Best Grey Bathroom Vanities In The Market
Make your statement with grey vanities!
Add rustic flavor to your bathroom with Water Creation's Chestnut collection!
The Chestnut vanity is a plus to any large bathroom or tiny powder room with sufficient storage drawers and a spacious interior with movable shelves. The vanity's wood grain surface accents will help you stand out.
Its Grey Oak finish provides traditional style with aesthetic qualities. Together with a fitted ceramics sink and finely carved door and drawer, these elements contribute to the resilience and remarkable artistry that will last a lifetime.
The grandeur of this vanity is only rivaled by its seamless structure, which has sleek, clean lines and a cool, neutral finish.
The Lexora Ziva vanity in dark grey adds a lovely, modern touch to any bathroom. It has soft-close hinges and slides on the cabinet doors and drawers to boost safety and guarantee you never have to hear a slamming cabinet anymore. Thanks to its solid birch and rubber wood construction, this piece is as sturdy as it looks.
It also comes with a mirror and a matching wood frame, making it a complete set you need to finish your home improvement project.
The Blossom Valencia vanity offers a double ceramic sink structured in wood to provide a smooth and elegant design, resisting dent or distortion.
Its classic wall-hung design provides its sleek appearance hiding spacious storage. It also has an open back for easy plumbing installation. Soft-close drawers prevent cracks and reduce friction on the hardware, making it a high-quality, easy cleanup, and maintenance-free ceramic sink.
The vanity has five layers of painting, further lasting its lifespan two times longer with its resistance to moisture and humidity. Buyers are guaranteed one year of product warranty and excellent customer service.
Windsor Traditional Bathroom Vanity has shaker-style flat panel doors that open to introducing two spacious compartments for arranging items of various sizes and hidden drawers for keeping washcloths and hand towels close at hand.
Large, soft-closing drawers down the middle offer ample storage for all of your bathroom necessities.
The dovetail drawers are made of solid pine and have a clear coat finish. The soft-close drawers and doors all have brushed nickel handles. Two single-hole faucets have also been pre-drilled into the countertop.
This vanity comes with two Windsor Traditional 24" Mirrors, which boast a streamlined form with elaborate molding on the top and bottom.
Handcrafted in Italy, the Vitri collection offers a contemporary look with a delicate flair.
The Vitri line is designed with high-quality cabinet materials, push-to-open Blum hardware, and attractively frosted nano glass panels. With new technology, the glass is engineered to be sturdy for regular usage and will not leave scuffs or fingerprints behind.
When coupled with LAVIVA countertops, you may make whatever style you want in your bathroom's interior, from a sleek modern appearance with the VIVA Stone Solid Surface countertop to a gentler sophisticated aesthetic with marble or quartz countertops. This superior vanity is ideal for any bathroom and will become the key component of your interior.
Colors Best Paired With Grey
Orange
An all-grey scheme will benefit from a splash of vibrant orange. Several orange tones are ideal for matching grey, so you may be as bright or as subtle as you want.
Burnt oranges mixed with a mid-grey may be the ideal rustic bathroom color palette, while a charcoal grey and brilliant tangerine hue would be more contemporary and distinctive. Introduce a crisp white into an orange and grey color scheme to increase contrast and make the orange stand out.
Yellow
A bright yellow, a light pastel lemon, or even more faded mustard will cut through the chilly grey tones, providing warmth and vigor.
Using a bright color to cut through a soft color works well. A striking piece of furniture is ideal for introducing vibrant colors.
Pink
Blush pink is the perfect tint for softening grey tones without being overly emotional or bringing too much warmth to a place.
Bring in wooden textures and stay with gentle greys for a delicate, understated feel that would go nicely with a more traditional country mood.
White
White is a common color to pair with grey and can be tailored to any environment or style. Match soft grey with a clean white or contrast white with deep, dark grey for a light and airy area.
Even though this pairing is basic, not all white hues will match any grey shade. Warmer whites are likely to look best with warmer greys and vice versa, whereas cool-toned greys look best with purer whites.
Bathroom Ideas With Grey Vanity: A Step Further
Grey is a proven and tested coloring for a bathroom, but you must still use it with caution. It usually includes cooler tones, making a place appear chilly and undesirable when coupled with other neutrals.
Warmer accents and good lighting will aid in balancing the color temperature given off by your centerpiece bathroom vanity.