Signs That You Need To Replace Your Vanity Set With Virtu USA Bathroom Vanities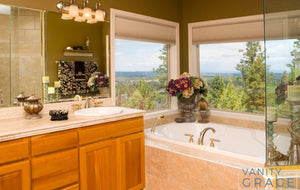 Does your bathroom feel like a place to get ready or somewhere you just want to get out? Perhaps, even worse is that your vanity set does not seem to be doing the trick anymore. This may indicate that it is time for an upgrade or a total change in the style of your bathroom.
Luckily, there are plenty of options for you. The most talked-about option these days is Virtu USA bathroom vanities. Popular for its incredible and competitively-priced price with top quality, these bath vanities have become a top pick.
They are not just great in terms of function; they even have a sleek, contemporary look, which can be perfect for either a traditional or modern bathroom. Either way, you'll love the idea of getting everything you need all in one place without overwhelming the space.
Meanwhile, if you are confused about whether you need to replace it or not, here are some signs that you need to do so:
#1. It's Broken
If you still use your bathroom vanity and it starts to break down, it is a good indicator that the time has come. It is probably time to start looking at the different choices of Virtu USA bathroom vanities available in hardware stores near you. You might be surprised how easy it can be to upgrade your current set into a brand new one without much hassle.
#2. Your Vanity Set Is Severely Outdated
Not even the most updated bathroom will have a vanity set that can fight the passage of time. Bath vanities need to be replaced at least every three to five years based on the number of times they are used.
If you are holding onto your old, outdated home décor, this is also a good sign that your vanity needs to be replaced with a Virtu USA bath vanity because it can help you open up more choices for you and your family in terms of style and function.
#3. Your Bathroom Gives You Headaches
No matter how clean the bathroom and how organized you are with the storage of your personal items when you finish working on it at night, you can't wait to get out of there. Maybe it's because there is a lot of dust, or maybe it's because the ambience somehow does not feel as homey as it used to be.
#4. Your Bathroom Fills You With Nostalgia
If the items in your bathroom have the power to make you reminisce about a simpler time, then you may have an old vanity set that is in dire need of replacement. If you are looking for a fresh and modern update, then Virtu USA bathroom vanities can be what you're looking for.
These versatile and stylish bathroom vanities can help you revamp your entire look but also provide your family with all the amenities they might need in one place.
#5. Your Bathroom Does Not Have Enough Storage Space
If you are tired of looking all around the bathroom for a place to store your belongings every time you want to use it, it may mean that you need a new vanity set. Also, a new storage rack for your towels and bathrobes can be a great idea to help keep everything in its place.
Be sure that what you are buying is of good quality because you will be spending a lot of time in it. Then, knowing the signs above, you can choose the right time to replace your vanity, which would save you money to spend it on something else in your home.
Highly Recommended Virtu USA Bathroom Vanities
Need something that can match your lighting and other design needs? This vanity set can do just that. The Italian Carrara marble top is a perfect match to the light fixtures because both complement each other and make the room look more elegant at the same time.
Meanwhile, the solid wood frame construction is finished off with a cashmere grey finish which helps conceal dents and scratches. It's not just a pretty table, it's also highly functional.
Another one of the highly sought after Virtu USA bathroom vanities is this 78-inch double sink dazzle white quartz top vanity. This bathroom vanity offers more than just elegance and functionality.
It also comes with a matching glass top that is perfect for those who want to be able to see the items in their storage area.
If you want to go for exquisite design and craftsmanship, this is definitely a great choice.
It uses handcrafted natural hardwood with a stunning sealed finishing that will catch your attention. It also has two sinks dazzling with a white quartz top that is intricately bonded to the frame creating an absolutely stunning piece.
Regardless of the Virtu USA bathroom vanities you choose, they all have one thing in common. They are beautiful, functional and a great addition to your home. Make sure that what you're looking for is one that will match your interior design needs and style.
Wrap Up
Vanity sets are important because they give an added sense of class, elegance and value to your bathroom. They help lift the overall look and feel of the room and make it seem bigger than it actually is.
The smooth finish, contemporary look and classic details will help you bring out the style of your home with these sets. Plus, you also don't have to worry about getting different items for your accessories because you will be able to get everything you need in one place.
So, if you think that your old vanity is in dire need of replacement, then don't waste any more time. Instead, get yourself a Virtu USA bath vanity today!