Master Bathroom Vanities For Your Home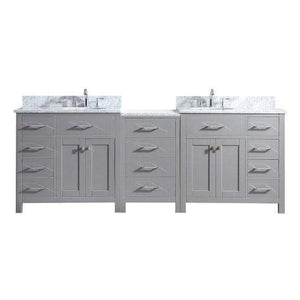 Master Bathroom Vanities
Starting any new home renovation can be exciting, but what many of us forget, is how important the planning is in order to help reduce the amount of stress and headache that goes into any home remodel.  Choosing the right master bathroom vanity will not only make your life easier, but also make your master bathroom look luxurious.  The Virtu USA master bathroom vanities collection offer some of the finest hand crafted vanities available in the United States with sizes including and up to 90 inch vanities.  Virtu USA vanities are also backed by a 1-year manufacturers warranty.  Be sure to check out this luxurious collection for any freestanding or wall-mount vanities at the link listed below. 
Things you should consider when purchasing a new bathroom vanity:
How much space you have available? 
If you decide to go with a single or a double sink 
Would you like free standing or wall mount? 
What type of finish will best compliment the decor theme you're choosing?
What type of vanity top you would use?