Factors To Consider When Choosing A Wall Mounted Bathroom Vanity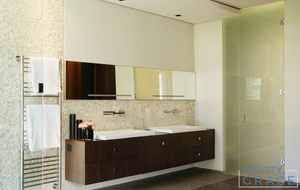 A wall-mounted bathroom vanity combines two separate functions, also popularly known as a "vanity wall". As the name suggests, it contains a sink with an attached countertop on which you can place things. Picking a wall mounted bathroom vanity is not as easy as it seems.

Fret not because this simple guide can help you ease the burden.
How Will You Pick the Right Wall Mounted Bathroom Vanity?
Consider both the look and practicality of the product.
The majority of wall-mounted vanities are now made from bathroom-grade materials, which will last long without any issues. They are also designed to be stylish, so they can match the rest of your bathroom decoration.

The biggest advantage of using a wall-mounted bathroom vanity is that it frees up more room in your small bathroom. This is especially important for those who have limited space in the bathroom.

Moreover, these vanity walls save you some space on your countertop. Sinks with integrated tops are widespread in modern bathrooms as they allow you to place things like lotions and creams while still having enough countertop space.


Choose a product with adjustable height options.
The best vanity walls also allow you to adjust the height of your countertop. Smaller bathrooms usually come with a small countertop and only a few inches of space in your cabinet. On the other hand, your bathroom vanity will be situated on the floor above it.

If this is the case, you may want to opt for a flat wall-mounted vanity. However, if you want to be able to use your toiletries, then it is best to get a vanity with height adjustments or at least a wall-mounted model which can be adjusted.


Check the price and quality of the materials used.
As with any other product, vanity wall units have strengths and weaknesses. Their prices vary considerably depending on their brand and the quality of materials used. The high-quality thin wood material is ideal for these products as they are easy to clean and lightweight while also being very durable.

However, you should avoid the cheap alternative materials such as particleboard because they are not only less durable but also costly.

In addition to the material used, choose a product with high-end fixtures and finishing touches. For example, you may want a polished chrome finish or powder coating on your vanity wall unit. This will make it look much more stylish and modern.
Our Top Recommended Wall Mounted Bathroom Vanity
Not sure which wall mount bathroom vanity to buy? We have done the research for you!


Give your bathroom a modern look with our 60-inch double sink wall mount vanity. This stylish unit includes a Euro-style handle, stainless steel hinges and ceramic disc that gives it the look of an espresso machine. This unit is equipped with two doors and two drawers for storage options. You can easily close the doors to your vanity, helping to keep your possessions safe and secure.

This unit is equipped with a high gloss finish that provides a modern touch to the bathroom. Additionally, it comes with an integrated ceramic disc that offers sleek style for this elegant unit.


Enjoy the style and elegance of this modern wall mount vanity. The flush back design and integrated sink make this unit great for smaller bathrooms. It has an open back to easily install your plumbing without any hassle.

Don't worry since installation hardware is included with your purchase. In addition, this unit has a white high gloss wall mount finish, giving it a stylish look.


Customize your bathroom with Kubebath's Bliss 72-Inch Double Sink Wall Mount Modern Bathroom Vanity. This wall hung vanity comes with a clear acrylic countertop, solid MDF base, and high-quality European hardware for a modern look.

The beauty of this collection lies within the simplicity of the design; extremely easy to install and completely customizable. Contemporary with a modern feel, any bathroom will look stunning with this setup. This is ideal for bigger bathrooms.


When it comes to modern bathroom vanities, no brand has quite the range of beautiful products that Kubebath does. With quality and durability at their core, these vanities will serve you well for years. This bathroom vanity comes with an 80-inch double sink cabinet. It is spacious enough to hold your toiletries and other essentials as you need them.

In addition, it is designed with a sleek high gloss finish which looks great in any bathroom setting. Installation is very easy, and you can be sure that the unit will last for years to come.
Conclusion
Wall-mounted bathroom vanities are great for those who want to add a touch of glamour to their bathroom following the latest trends. They also offer a more practical solution, and you can also get more storage space in your small bathroom.

Buying a modern wall mounted product is not only stylish and functional, but it will be worth its price as you continue to use it for quite some time.

All of the products from Vanity Grace are sold with hardware and instructions included. However, we always recommend that you use all of our hardware to prevent any potential issues in the future.

If you do have any questions or need extra tips or instructions, be sure to contact us, and one of our representatives will get back to you shortly.