Double Vanities: The Next Big Thing In Master Bathroom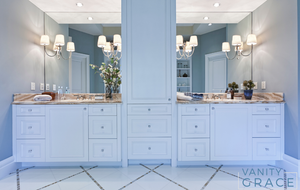 The master bedroom of a home can make it or break it. It negatively affects the beginning and end of your next day when you do not adore where you settle down after a long day.
What is the most striking feature in a master bedroom to you?
If you said the bathroom, you are in for a treat!
Since time immemorial, luxury finishes and equipment that encourage leisure and meditation have remained popular among homeowners. So as said, the right bathroom vanity can improve the overall quality and functionality of your master bath. Furthermore, vanities are available in diverse variations and design features, making this home project even better with a working guide.
You may encounter some judgment call dilemmas while planning a new master bathroom. Whether an upgrade or a significant overhaul, finding the right vanity for your project can add not just a beautiful touch but also increase the value of your property.
When selecting the correct vanity, prioritize the material you need over the style you want to feature. Keep in mind that you will use the vanity for a long time, so choose a material that will last for decades.
Options for master bathroom vanities are endless. Everything may be customized to meet your needs, including the pullouts, doors, drawers, material, and finish. But if you do not have the luxury of time to wait for a personalized vanity, let this article guide you!
The Best Master Bathroom Double Vanities
Bathroom vanities come in a wide variety of sizes, materials, and styles. Whether your style leans toward a contemporary floating frosted glass vanity, an open shelving model, or a more traditional fixed solid wood one, you can find a vanity to meet your style.
Here is a quick rundown of the best master bathroom vanities in the market that you can choose for your master bathroom.
Fantastic value and classic design. The elegant Beckett vanity has quality touches like brushed gold metal hardware accents, dovetailed drawers, soft-close doors and drawers, and a white cultured marble countertop with backsplash and reversible side-splash.
This 84-inch double bathroom vanity is environment-friendly, has high-grade solid wood, plywood, and MDF, and is engineered to avoid warping and last a lifetime. It took a 12-stage wood preparation, sanding, painting, and finishing process, and it is highly water-resistant due to its low VOC sealed finish. In addition, buyers are guaranteed ample storage and a double-depth lower drawer for their bathroom necessities.
The Beckett vanity is a beautiful transitional styling that compliments any bathroom with its practical floor-standing design. In addition, it requires minimal assembly effort and comes with a two-year limited warranty.
Influenced by the Caroline, the Caroline Parkway vanity offers a sleek structure with abundant storage. The Cashmere Grey cabinet finished vanity is constructed from quality solid wood and finished with zero-emissions paint, a great centerpiece to any master bathroom. In addition, Virtu USA added soft closing doors and drawers to their entire product line. The premium soft-closing hardware increases the safety of the vanity and its lifetime reliability.
The 93-inch vanity has chrome handles with brushed nickel highlights, and knobs will transform any master bathroom into the room of your dreams. This model is perfect for its functionality and aesthetics that come with the top-grade Italian Carrara white marble countertop.
Caroline Parkway vanity is factory assembled for easy installation. It also comes with a one-year warranty.
The freestanding Lexora Dukes 84-inch bathroom vanity has been upgraded to suit the needs of every modern abode. The classical inspirations may be seen in the vanity structure and ageless countertop. This vanity's outstanding utility is contemporary, with substantial cabinet and drawer space and soft-close hinges and drawer slides. This vanity is also equipped with undermount sinks.
The Lexora Dukes vanity features a solid rubber and birch wood frame with E0 grade plywood panels and eight stages of the painting and finishing process. Each finish is primed and sealed for superior water and moisture resistance.
Also, it has a fully assembled fine white Italian Carrara marble that will leave a stunning impression on anyone in its presence. It comes with a UPC-certified ceramic sink with overflow and robust chrome hardware.
Transform your bathroom into a work of beauty in no time with the Milano vanity set.
Milano's master bathroom vanities are made of solid birch hardwood coupled with a 3/4-inch thick seamless Italian Carrara white marble countertop and backsplash carved from a single slab.
Soft-close doors with concealed adjustable hinges and drawers ensure smooth and quiet operation, while the brushed chrome finish metal hardware reveals the touch of elegance. The 84-inch double sink vanity comes with white porcelain sinks with overflow, dovetail joint drawer construction, and a multi-layer paint finish made from solid birch hardwood and wood panels that give beauty and reliability for generations to follow.


Why Bathroom Vanities Should Be In Master Bedrooms
With the increasingly hectic environment that we have today, families who get up at the same time every day learn that single vanities do not provide them a personal breather. Instead, a double vanity fit for a master bedroom enables them to brush their teeth, put on their makeup, etc., at the same time. This means less conflict and more time saved.
Bathroom vanities also add value to your home. While one sink is typical and essential, two sinks make your home more desirable and attractive to potential buyers. Often, the choice to buy one home over another is how practical the bedroom is, and a bathroom vanity adds to that.
Master bathroom vanities are an excellent way to reclaim some of the wasted space in your master bedroom. A person can never have too much room for storage. Thus, money invested in the best master bathroom vanity is spent well.