Designer-Approved Tips To Style Your Bathroom Vanities For Hotels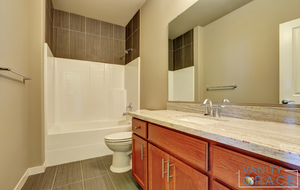 Whether you are an architect trying to revamp a bland room, or an owner looking for a way to style your newly-added space, these designer-approved tips will help you add flair to your bathroom vanities for hotels without going overboard.


1. Go for a monochromatic look
Revamping hotel rooms that get a lot of traffic is not easy. So the first step to achieving the minimalist look you are going for is to go for as many monochromatic pieces as possible. It will make your room look stylish and clean without spending a lot of money on individual items.

Opt for a crisp white vanity top. A container can do the job of your vanity top, while you can add the finishing touch with a black or silver sink or a shower curtain or liner.


2. Go for clean lines
The monochromatic look will make it easy to achieve a clean and simple design so that your room doesn't look crowded. This can be achieved by only using one shade of trim paint (light white) on the walls and flooring, as well as light fixtures and hardware for an accent color.

Task and ample overhead lighting are also recommended for a more elegant look.


3. Use marble or wood for countertops
A high-gloss finish is often recommended for hotel bathrooms, but when you're aiming for a minimalist look, it's better to go for natural wood or marble instead. With a countertop such as this, you can use it as an accent piece, but since you don't want the whole room to look like a set from Casper's -- that would be going too far.


4. Use contrasting colors for bathroom accessories
It's crucial to pick the right accent colors for your bathroom. Add a pop of color in one area but avoid clashing with any other decorative elements in the room. You can opt for a bright accent or take an all-black, all-white approach as long as there is color contrast.


5. A floating bathroom vanity is a good add-on too.
To achieve a sleek and modern hotel room, including a floating bathroom vanity is important. It can be the perfect fit for a room that gets a lot of traffic, as it allows guests to have access to the sink and mirror without making them feel cramped.

It usually comes with a lower shelf for storage and a high one for bathroom accessories. To finish the look, you can mount light above it or behind it.


Our Recommended Bathroom Vanities For Hotels
If you are looking for bathroom vanities for hotels that you can use at home or in your hotel or motel, we have the perfect choice. Our Wyndham Beckett 54-inch single bathroom vanity in green is your way.

It is constructed with eco-friendly, high-grade solid wood, plywood, and MDF-engineered to prevent warping and last a lifetime. This stunning statement piece is the essence of simplicity, functionality, and sophistication with its double-depth drawer. High-quality construction means that you don't have to worry about replacing this in the future.

Its highly water-resistant low V.O.C. sealed finish is beautiful and maintenance-free. If you love the idea of countertops with a splash of color, then our white cultured marble countertop is perfect for you.

It comes with a two-year limited warranty and is currently on sale on the Vanity Grace website.


Time to upgrade the look of your haute couture rooms with a bold personality and a well-crafted design - the Caroline Bath Vanity Collection by Virtu U.S.A. The Caroline 60" Single Sink Vanity has a magnificent minimalist style, offering anything but ordinary. It features a rich, warm white finish on select hardwood solid and select plywood, complete with an elegantly framed door and drawer fronts with soft-close hinges.

The undermount single sink is constructed from premium quality marble composite material for maximum durability, ensuring you a lifetime of use. Whether you're into cool gray, cashmere, deep espresso, or the more traditional warm white and cool gray marble choices, the Caroline 60" single sink vanity has it all. The matte black trim adds a touch of elegance and style to this refined piece.

Get this at a discounted price on the Vanity Grace website.


Aiming to achieve a serene contemporary look? Lexora has created the Ziva single vanity. From its simple design to its smooth, beveled edges, this piece is a must-have. It is available in black or white, creating a clean and sleek aesthetic with a modern look.

The Sink Guard's plated steel construction is the only one in the industry, and it also protects against scratches! This piece requires minimal time and effort on your part while giving you countless years of use. Its lifetime guarantee adds to its versatility, making it the perfect fit for your home or hotel.

Available in Vanity Grace at a discounted price, this piece is a great addition to any contemporary space.


The acrylic toilet from Kubebath is a good fit, particularly in smaller hotel bathrooms, as it blends with any decor and has been designed to be lightweight and easy to handle.

They also come with chrome fittings and come in an array of colors. This gives you instant style improvement without hiring someone or spending money on new furniture. More colors are available at Vanity Grace.


Of all bathroom vanities for hotels, nothing compares with the Virtu U.S.A. Caroline 48-inch single sink dazzle white quartz top vanity. It's stylish, classic, and sturdy. The lovely quartz countertop is pre-sealed to prevent scratches, while the multiple drawers provide ample space under the sink.

The open design gives you an easy view of your toiletries, bottles, and soap. Also, the mocha color complements any bathroom decor and frees up floor space by reducing or eliminating a mirror that could clutter the interior.

Available at Vanity Grace at a discounted price - purchase it before it's too late.
Wrap Up
Bathroom vanities for hotels can uplift the overall appearance of your hotel rooms. They give the place a distinct and chic look which attracts many guests.

The vanity and sink can help to add elegance to the room and make it look beautiful. In addition, it allows you to organize your space and keep it clean and clutter-free at all times.

We hope you choose the right bathroom vanities for hotels. Make sure to pick pieces that will blend into the decor of your hotel room or motel to achieve that sleek contemporary look without much effort. Still need help? Contact us at Vanity Grace, and we'll be more than happy to assist you!